The Complete Character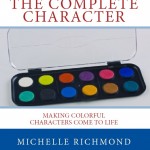 Every really good story is character-driven. But what makes a great character? Is it someone we can relate to, someone whose pain we feel deeply, someone whose voice mysteriously draws us in?
Great characters don't have to be very nice people. They don't have to be strong or beautiful or noble. They do have to be complex, and filled with human foibles. They have to hit more than one note. They have to thrill us, disturb us, or give us pause.
The Complete Character, book 2 in the Guided Workbooks for Writers series, shows you how to create unforgettable characters capable of holding the reader's interest and moving the story forward.
60 character-based exercises are combined with solid advice on craft and examples from published works to take you step-by-step through the process of developing your characters to their full potential.
[maxbutton id ="5"]
The Complete Character is included in the
$79 Guided Workbooks for Writers subscription
. Click SUBSCRIBE to purchase through paypal. The first workbook, Where Stories Begin, will be available to download instantly with your purchase.