Where Stories Begin
Where do stories begin? With a phrase, an image, a place, a memory, a character who demands to be heard?
Sometimes the hardest part about being a writer is getting the first words on the page. Story Starters: A Workbook for Writers, will banish writer's block, spark your imagination, and provide endless opportunities to make stories out of thin air.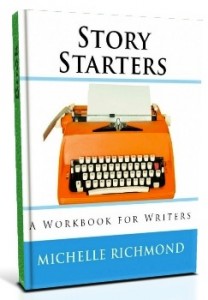 Arranged in a daily progression to help you get the most out of your writing practice, the fifty exercises in this workbook are the result of more than a decade of teaching creative writing and literature. I've selected the exercises that proved the most valuable for my graduate students and private creative writing students over the years, exercises that resulted in wonderful stories.
Craft-based exercises, free-flow exercises, and ten-minute prompts lead up to a series of flash fiction assignments. A Halfway There Self-Assessment helps your recognize your strengths and identify your subject. By the end of 50 days, you will have written several complete short-short stories, and will have planted the seeds for many other stories, a novel, or a memoir. 138 pages. Includes roomy pages for writing, as well as inspiring literary quotes and notes on narrative craft.
Instantly download this workbook.