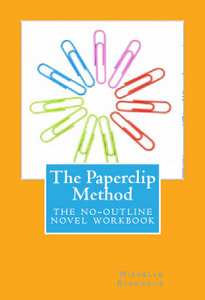 Maybe you've been waiting to write your novel until you have a complete outline. Maybe you think you have to know where you're going before you start the journey. Maybe you've read those books that say you have to know who does what to whom, and when they do it, and why, before you can put the first words on the page.
Forget all of that.
The Paperclip Method was created by a New York Times bestselling novelist who has never written an outline. In this informative and easy-to-follow workbook, you'll learn effective, exciting techniques for creating intriguing fragments and mini-stories, finding meaningful connections among short pieces, and weaving those pieces into a compelling and coherent narrative: all without an outline or a plan of attack.
If you don't do lists, if your T-shirts are in your underwear drawer and your socks are somewhere in the pantry, if you take trips on a whim and call friends the day-of to ask them out for dinner or drinks, then The Paperclip Method is for you.
Please note: The Paperclip Method download will be included with your $79 subscription to the Guided Workbooks for Writers.
[maxbutton id = "5"]
Get The Paperclip Method, along with four other thought-provoking downloadable workbooks, when you subscribe to
The Guided Workbooks for Writers
Click SUBSCRIBE to purchase through paypal. Subscription: $79.
To instantly download
Where Stories Begin
, the first workbook in the series, for $9.95, please click the BUY button below.
[maxbutton id = "7"]